15 March, 2017
Toshiba Wins Better Buys 2017 Innovative Product Of The Year Award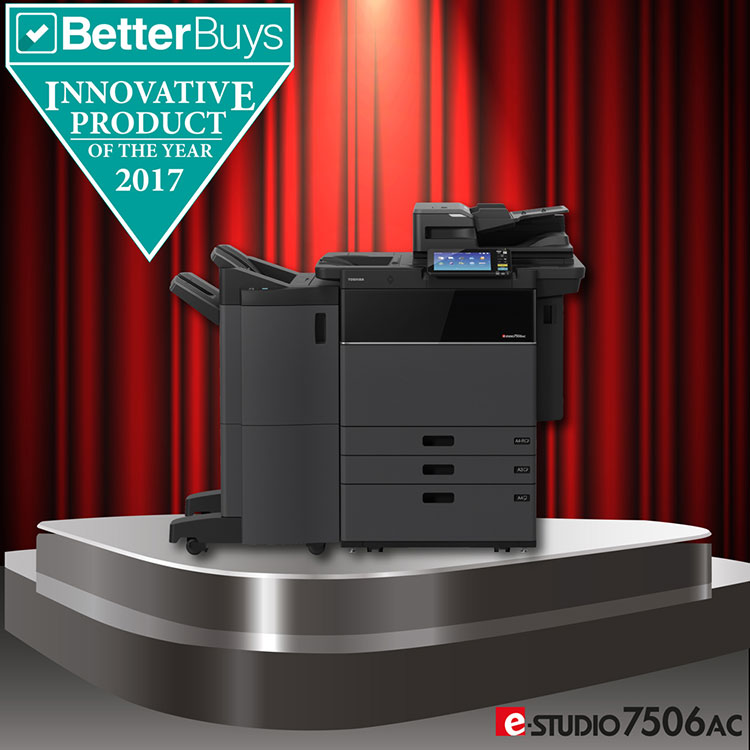 MALAYSIA, March 15, 2017 – Toshiba Tec Corporation announced its latest trio of color e-STUDIO multifunction printers (MFPs) have earned Better Buys 2017 Innovative Product of the Year Award.
Toshiba's e-STUDIO7506AC series' premier hardware, software and exceptional value impressed the leading independent authority on office equipment during side-by-side comparisons with other manufacturers' high-volume MFPs.
"Toshiba continuously upgrades its devices with newer and better features and the e-STUDIO7506AC is no exception," said Better Buys editor Melissa Pardo-Bunte. "With their products' variety of paper-handling features, strong security and other features, Toshiba's powerful devices improve workflow within virtually any environment."
Better Buys staff was particularly impressed by the MFPs' powerful multi-core Intel® Atom™ processor, customizable 9-inch tablet-style user interface (UI), Embedded Application Platform (EAP) and Dual-Scan Document Feeder (DSDF).
The e-STUDIO7506AC series' (featuring the e-STUDIO7506AC, e-STUDIO6506AC and e-STUDIO5506AC models) is designed to connect, integrate and simplify the workplace while enabling users to more efficiently manage document intensive business processes. The inclusion of Intel's Atom processor simplifies complex projects. Moreover, the EAP enables the MFPs to integrate embedded or third-party applications allowing mobile users the flexibility to save and retrieve any content via the cloud.
"We are proud that our latest colour MFP has been chosen as Better Buys' Innovative Product of the Year 2017," commented Isao Sugehara, Chief Marketing Executive of Toshiba Tec Printing Solutions Business Group. "We stand with our customer and always try to enhance their work environment. This award proved that e-STUDIO7506AC series is the innovative product, which enables us to contribute to our customer."
Toshiba's e-STUDIO7506AC series recently won Better Buys Q3 2016 Editor's Choice Award. Toshiba has earned the organization's Innovative Product of the Year Awards four out of the last five years.
About Better Buys
After more than 20 years as a trusted authority on office equipment, Better Buys is now a rebranded site that offers resources to help companies in the market for Business Intelligence solutions, HR Software, CMMS Systems, as well as printers, copiers, and scanners. Leveraging an experienced team of in-house editors, Better Buys offers a range of content and resources designed to help organizations make smarter purchasing decisions, including expert reviews, authoritative whitepapers & reports, insightful market research, comprehensive buyer's guides, and more. For more information, visit betterbuys.com.
About Toshiba Tec Malaysia Sdn Bhd
Toshiba Tec Malaysia Sdn Bhd, formerly known as Tele Dynamics Sdn Bhd has been the exclusive distributor for Toshiba's Office Automation products in Malaysia since 1983. Toshiba Tec Malaysia Sdn Bhd has sales companies in Malaysia and Thailand. They offer a wide range of products, from Multi-Function Peripherals systems, Barcode systems, Point of Salessystems and IT services.
Unless otherwise specified and/or credited all images, artwork, text and graphics, logos and logotypes are the copyright and/or trademark of the respective owners. All rights reserved.
BACK TO LIST