15 January, 2016
Toshiba Brings Innovative Compact MFPs To Malaysia Market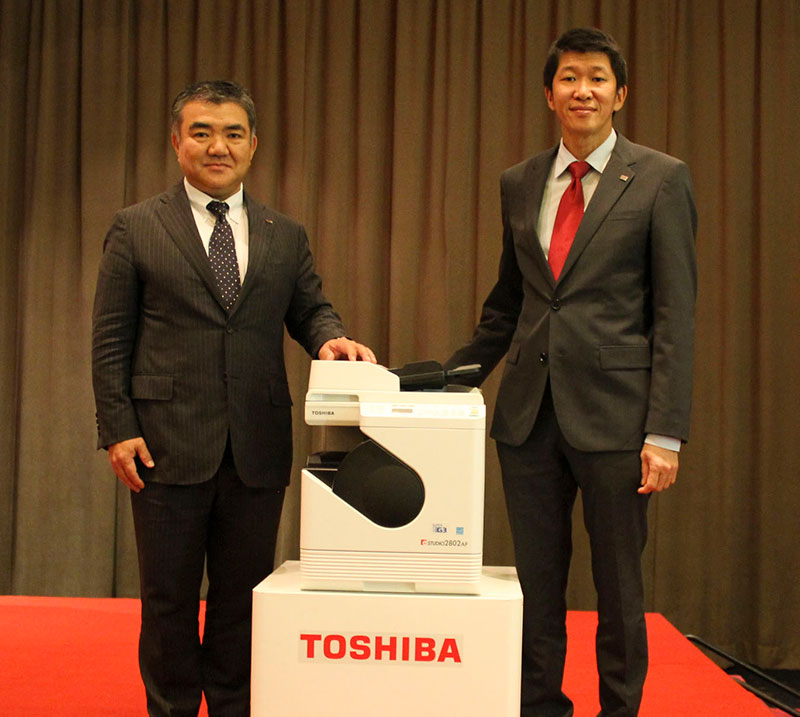 MALAYSIA, Jan 15, 2016 – Today, TOSHIBA TEC unveils its two new models of the innovative and Toshiba's smallest A3 monochrome Multifunction Printers (MFPs) in Malaysia. The e-STUDIO2802A and e-STUDIO2309A series are set to drive greater convenience and cost-efficiency to smaller businesses and workgroups.
Mr. Isao Sugehara, Chief Marketing Executive of Toshiba TEC Corporation says "In the office, most of the demand is only A4 printing. However, customer would still think that they need A3 capable MFP. These innovative products can satisfy this requirement. By launching these products, we want to obtain 18% market share in 2016."
It's small, it's big. The body is compact A4 size, but enables A3 size output print by using built-in stack feed bypass and also enables A3 size paper scanning with its built-in Reversing Automatic Document Feeder (RADF). What's more, users can now expect very fast turnaround print jobs, as the FCOT (First Copy Time) is an amazingly 6.4 seconds and impressive reliable print speed of 28ppm (Prints Per Minute). These outstanding features such as colour scanning, super sharp resolutions and office-ready features such as networking and security functions are also conveniently available.
Size does matter. The incredibly compact size of eSTUDIO2802A series can be easily tucked into tight corners and spaces such as back office of a warehouse or a tiny counter in a bank.
What make this even more a must have device is its energy-saving features. Toshiba TEC's latest offerings are aligned with its commitment to the environment, and e-STUDIO2802A series meets the major environmental programs and standards, such as International ENERGY STAR Program and EPEAT's Silver rate (it is planned to acquire EPEAT Gold rate)*. In addition, Toshiba e-STUDIO2802A series is certified as Toshiba's "Excellent ECPs (Environmentally Conscious Products)". Excellent ECPs is Toshiba group's internal certification but is awarded only to the products which achieve the highest level of environmental performance in the industry in terms of major functions, at the time of release.
The sister models of e-STUDIO2802A series; the unrivaled e-STUDIO2309A and e-STUDIO2809A (e-STUDIO2809A series) are also unveiled in Malaysia. These new models of remarkable monochrome MFPs from Toshiba will certainly bring great joy to many SMEs in Malaysia.
Major features of e-STUDIO2802A series/ e-STUDIO2809A series
• A4 Size A3 Capable MFP
• Print & Copy Speed: 28ppm/ 23-28ppm
• Colour Scan Speed: Up to 25spm
• FCOT (A4): 6.4 sec.
• Power Consumption: 1.4kW (220-240V)
• Printer driver: Windows, Mac, Linux
BACK TO LIST