Customer Relationship Management (CRM) is a role-based user experience that provides sales executives and sales managers a platform to efficiently and effective collaborate in efforts to ease and boost sales. Users with the access are able to gain real-time and accurate visibility into the pipeline and forecasts of the team.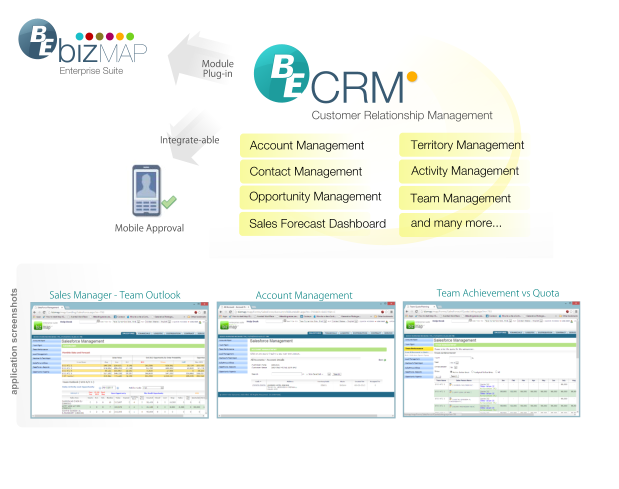 ---
Cost Efficient
Being a web-based application, Bizmap ERP greatly reduces additional costs of expensive hardware and software.
Local Centric
An ERP System owned and developed by B-Excelle, which is specialised and personalised for our local market.
Online Approvals
BizMap streamlines the business process by allowing users to undergo the approval process online, through a comprehensive multi-level approval configuration.
100% Local Support
Outsourcing overseas is difficult. Put yourselves at ease as the Malaysia-based team are available for contact during the work week.
Find out more about CRM by clicking here!
Overall, CRM streamlines sales cycle processes and further enables sales professionals to build better customer rapport with the help of an efficient system.

Account Management
Comprehensive overview of managed accounts become accessible, which allows sales professionals to keep track of customer interactions, opportunity status, sales history and much more.

Sales Forecasting
Forecast future sales effectively with tools that help track sales opportunities through the entire presales process.

Activity Management
CRM is a platform for users to plan and manage their activities/schedule in a systematic fashion. The designated team leader is then able to view and audit the scheduled activities by their team members.

Information at a Glance
Information retrieval for products, equipment and invoices related to customers are integrated seamlessly and are easily available for access.